PEARSON · Applied Science 2010 QCF · Unit 5 - Perceptions of Science
Hier vind je de beste samenvattingen om te slagen voor Unit 5 - Perceptions of Science op de PEARSON. Er zijn o.a. samenvattingen, aantekeningen en oefenvragen beschikbaar. Ook vind je op Stuvia diverse samenvattingen voor de opleiding Applied Science 2010 QCF op de PEARSON.
45 Zoekresultaten

4

Filter(s)
Currently, you only view notes uploaded by Tutors. To view all notes available on Stuvia, change the filters in the menu.
Populaire samengevatte boeken
Bestverkocht afgelopen tijd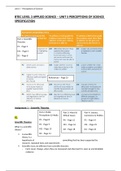 BTEC Applied Science - Unit 5 Perceptions of Science Notes (ALL)
Full notes for BTEC Applied Science Unit 5 - Perceptions of Science.
Includes Assignment 1 Scientific Theories (P1, M1, D1), Assignment 2 Public Perceptions & Media (P2, P3, M2, D2), Assignment 3 Moral & Ethical Issues (P4, M3, D3), Assignment 4 Science, Commerce & Politics (P5, M4, D4) and references. 
I achieved distinction in this unit.
i
Bekijk extra informatie
x
Samenvatting
• 28 pagina's •
door
•
geupload
Samenvatting
BTEC Applied Science - Unit 5 Perceptions of Science Notes (ALL)
Laatste update van het document: geleden
Full notes for BTEC Applied Science Unit 5 - Perceptions of Science.
Includes Assignment 1 Scientific Theories (P1, M1, D1), Assignment 2 Public Perceptions & Media (P2, P3, M2, D2), Assignment 3 Moral & Ethical Issues (P4, M3, D3), Assignment 4 Science, Commerce & Politics (P5, M4, D4) and references. 
I achieved distinction in this unit.